Petersracing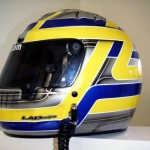 Ian and Rebecca Peters have a long history in Australian motorsport.
Ian has thirty years experience driving single seat race cars in classes such as Formula Ford, Formula 2, Formula Pacific and many historic classes with over 50 outright wins and many lap records.
Rebecca has competed in sportscars in single car events for the last twenty years. Together Ian and Rebecca have competed in Rally events in various of their Lotus sportcars with a great deal of success including third outright in an Adelaide Grand Prix rally in their Elan +2.
In 1998 Ian and Rebecca took the plunge into professional motorsport and formed a team to compete in the Australian Drivers Championship Gold star series for Formula Holden. They also took their Reynard to various overseas events including New Zealand for the Grand Prixs in 1998, 1999, and 2000. In the following years they won the Silver Star award for the series a record three times, and finally achieved a fourth outright in the Gold Star series of 2004. Rebecca managed the team throughout and brought the team up to a high level of professionalism and reliability as it grew to a dozen people. The team competed in 94 races in the series over 7 years.
Whilst competing in the New Zealand Grand Prixs they toured New Zealand extensively and fell in love with the people and the countryside and always commented that it was a shame they were only able to experience the drive in various rental vehicles. It was an easy decision to accept the invitation to tour new Zealand and its race circuits in their new Lotus Exige S. This will be the car's first competitive outing and it will be running in almost standard form.