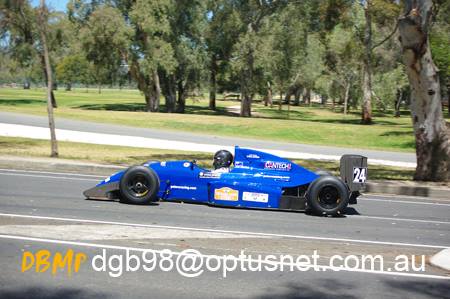 Hi All
Just a quick note to advise you of the results of the Victoria Park Sprints at the Adelaide Motorsports Festival.
As previously communicated on the 
facebook.com/petersracing
we had a hectic run in to the event with a late acceptance of our entry but, apart from some brake issues magnificently fixed by the crew, we ran fast and were finally fourth outright. It should be noted that Brenton Ramsay won outright in the similar Reynard 94D and we know one major reason why. That's perfectly legal and just what we would have done with more lead time. Next year!
We were faster than all the F1 cars and by all accounts the car looked and sounded superb and was well received by the crowds. We had hundreds of visitors in the pits and were a popular destination every time we warmed the car. I'm told there was 20000 plus paying guests so the event has been deemed a tremendous success and there are already applications for a full F1 field next year. We are working on a full Fholden field too. There were hundreds of club cars and period costumes as well as the Rally cars from the Adelaide Classic on show so there was lots to see (and eat).
We will certainly be involved next year and with more lead time we will challenge for the outright win.
Thanks to Andrew Lydon, Steve Davis and John Mahoney for the extraordinary work in preparation and running the car at the event under the usual capable direction of team manager Rebecca.
We are back in business with a running car, a work list to improve our competitiveness and the fire in the belly to achieve our goal.